VOC
The purpose of the European VOC Directive is to reduce the emission of volatile organic solvents (Volatile Organic Compounds) into the atmosphere. To achieve this both the paint manufacturer and the paint applier must comply with low limits. With our products we help our customers in the implementation of the VOC Directive. In addition, we support coating specialists in meeting the VOC limits with transparent data about solvent content and with VOC calculations for the particular application.

REACH
REACH (Registration, Evaluation and Authorisation of Chemicals) is the implementation of European legislation on chemicals and includes the registration, evaluation and authorisation of chemicals.
BUCOLIN uses only registered substances from its suppliers, thus fulfilling the REACH requirements. In addition, as a "downstream user", we take care to maintain the integrity of the communication chain between raw material suppliers and our customers. The most important tool here is the extended REACH-compliant MSDS.

GHS
Closely associated with the REACH regulation is the GHS Globally Harmonised System of Classification, Labelling and Packaging of Chemicals. GHS was initiated by the United Nations and is a globally harmonised system in which chemicals are classified, labelled and packaged. The most striking change is the danger symbols. The previous symbols with an orange background will be replaced by globally uniform red-bordered diamonds.
BUCOLIN is a partner that not only meets the new GHS labelling standard, but also the wider reaching requirements.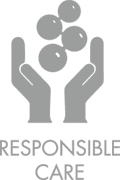 Commitment to Responsible Care
As a member, BUCOLIN committed itself as early as 1996 to comply with and support the global Responsible Care Guidelines of the International Council of Chemical Associations (ICCA).
Responsible Care is a separate and independent initiative of the chemical industry with the aim of promoting and improving conditions of environment, safety and health. The participating companies play their part in solving global problems.